Hollywood (Hollywood Bowl) : 14 septembre 1968
18000 spectateurs
Titres :
1. Intro - Are You Experienced
2. Voodoo Child (Slight Return)
3. Red House
4. Foxy Lady
5. Fire
6. Hey Joe
7. Sunshine Of Your Love
8. I Don't Live Today
9. Little Wing
10. The Star Spangled Banner - Purple Haze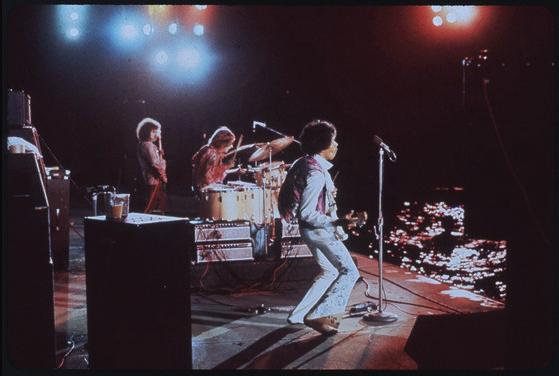 Source :
Electric Shock at The Hollywood Bowl
(2000 Rattle Snake RS 023)
Le concert est complet. Il n'existe à ma connaissance qu'un enregistrement audience de ce concert, de bonne qualité. Les trois instruments se détachent très bien, ainsi que le chant et les backings de Noel. La guitare est comme très souvent bien mise en avant. Il y a quelquefois des fluctuations de vitesse, mais rien de méchant.
Une très courte vidéo amateur d'environ 2 minutes a été faite et est visible sur Youtube, malheureusement non synchronisée avec le son.
Une anecdote originale : Il y a entre la scène et le public une assez grande étendue d'eau, ce qui fera flipper pas mal de monde à cause des évidents risques d'électrocution. Des spectateurs ne manqueront pas de se jeter dedans, et éclabousseront la scène. Les membres du groupe demanderont d'ailleurs souvent au public de faire plus attention (au moment de "Foxy Lady" et de "Little Wing" en particulier).  
Lors de l'
Intro
, les membres de groupe sont présentés, Jimi prend alors la parole pour expliquer qu'il devra s'accorder entre chaque morceau, et lance sa blague favorite : "
Nous prenons soin de vos oreilles, et c'est pourquoi nous ne jouons pas trop fort
". Vient ensuite un déluge de 3 minutes de sons et de notes apocalyptiques où le vibrato chauffe, on comprend immédiatement pourquoi il est impossible à la guitare de Jimi de rester accordée après ça.
"
Are You Experienced
" peut alors commencer le show, comme souvent lors de cette tournée américaine de 1968. Très bonne version, inspirée, avec son ambiance si particulière.
La guitare de Jimi baffouille un peu lors de l'intro de "
Voodoo Child (Slight Return)
", et souffre d'un énorme problème de justesse, surtout dans les graves, et le morceau est très difficile à apprécier… On comprend bien que Jimi s'en rend compte lors du solo, où une partie est jouée avec les dents. La suite et la fin du morceau sont expédiées, et Jimi s'excuse à la fin si l'ensemble "
sonne faux
".
Jimi introduit "
Red House
" comme leur favorite, ayant été enregistrée en 1793, et dédit le morceau à Buddy Miles et à Carmine Appice (du groupe Vanilla Fudge qui ouvrait pour ce concert, avec aussi Eire Apparent et Soft Machine). Le tempo est assez lent et Mitch un peu mou. Le solo est magique, tout au moins dans sa première moitié, avec un feeling comme toujours omniprésent, et où la section rythmique se réveille un peu. Il y a malheureusement quelques cuts lors du passage à la wha wha en fin de solo.
Dédicacée comme toujours à quelques unes de leurs copines, "
Foxy Lady
" fait bien réagir le public. Très bonne présence de la basse de Noel lors du solo. Le groupe demande à l'audience de ne pas éclabousser la scène d'eau dans l'euphorie.
Puis vient "
Fire
", énergique et sauvage comme à son habitude. Noel se déchaîne en backing. Je soupçonne un petit cut à la fin du solo. Bonne version.  
Sans intro instrumentale à rallonge, "
Hey Joe
" déroule sans surprise. La qualité du son est ici moins bonne. Jimi nous fait le solo final avec les dents.
"
Sunshine Of Your Love
", est présentée par Jimi comme une chanson du meilleur groupe du monde, Cream. Jimi précise bien qu'ils ne la joueront pas mieux qu'eux. A noter un intéressant solo central de basse de Noel.
On passe directement à "
I Don't Live Today
", où la voix de Jimi est étouffée. L'ensemble de l'interprétation est un peu brouillon.
Une première intro de "
Little Wing
" débute avec une corde de Mi grave complètement déréglée, et c'est insupportable. Jimi s'arrête de jouer au bout de 25 secondes en disant qu'il ne peut plus entendre ça et se raccorde. Noel en profite pour supplier les spectateurs de ne plus se jeter dans l'eau et les prévient du risque d'électrocution, Jimi prend sa suite. L'intro est aussitôt refaite (avec des variantes, sacré Jimi). C'est vraiment dommage qu'il y ait ici des variations de vitesse de bande, car l'interprétation est de tout premier ordre.
Le concert se termine avec l'enchaînement "
Star Spangled Banner - Purple Haze
", Mitch essaye de meubler l'espace sonore lors de l'hymne, mais il est difficile de déceler une synchronisation entre les deux compères à ce moment là. L'intro de "Purple Haze" est de tout premier ordre. On entend un peu trop la basse, mais, pour une fois… Le solo est classique, et la fin a capella est jouée avec les dents, Jimi cite de nouveau une partie de son hymne.
Le public est remercié chaleureusement.
Voilà, au final, un bon concert du groupe, malgré les problèmes de justesse, avec d'assez bonnes versions de quelques morceaux. Bien entendu, je ne me vois pas choisir ce CD pour présenter Jimi à un novice, mais il est intéressant pour les collectionneurs.