Copenhague (K.B. Hallen) : 3 septembre 1970
Titres :
1. Stone Free
2. Foxy Lady
3. Message To Love
4. Hey Baby (New Rising Sun)
5. All Along The Watchtower
6. Machine Gun
7. Spanish Castle Magic
8. Ezy Ryder
9. Freedom
10. Red House
11. In From The Storm
12. Purple Haze
13. Voodoo Child (Slight Return)
14. Hey Joe
15. Fire  
Source : "KB Hallen 1970 Merge"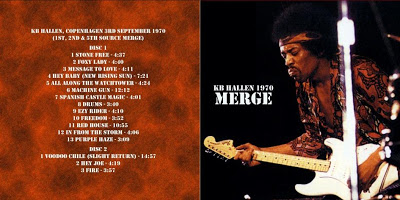 Le Merge consacré au concert du 3 septembre 1970 est un modèle du genre : composé de trois sources différentes, le résultat obtenu est d'autant plus impressionnant qu'il est obtenu à partir d'enregistrements "audience". Non seulement la voix et la guitare de Jimi sont toujours parfaitement audibles, mais le tout est très équilibré : on entend même les cymbales de Mitch Mitchell.
Copenhague est la cinquième étape de l'ultime tournée européenne de Jimi, qui n'a pas débuté de la meilleure des manières : après une prestation mitigée à l'Ile de Wight, suivie d'une mauvaise performance à Stockholm, il a définitivement touché le fond à Arhus. Jimi ne se produira avec son trio qu'à deux reprises par la suite.
Je vous propose une traduction de quelques extraits du témoignage de Kirsten Nefer, tel qu'on peut le lire dans les notes de pochettes du CD Univibes "Jimi In Denmark" :
"Nous sommes parti pour le "K.B. Hallen" en taxi et Jimi a commencé à être nerveux. Dès que nous sommes arrivés, toute sa confiance s'était envolée, soudainement. Il ne voulait plus jouer, alors je lui ai dit : "Ce n'est pas bien. C'est mon pays, tu les a laissé tomber hier, et tu ne vas pas refaire ça ce soir. C'est Copenhague !" Mais il ne pouvait pas jouer a-t-il dit. (…)
Quelques temps plus tard, Karen et Mitch sont arrivés avec Billy. Et alors le malaise a recommencé. Jimi a dit "Tout le monde dehors sauf Karen et Kirsten", et il a viré tout le monde et fermé la porte."
A un moment, Jimi répétait son affirmation d'Arhus selon laquelle il n'était pas sûr d'atteindre ses 28 ans…
"Alors nous nous sommes assis. Je ne sais pas combien de temps, mais un sacré moment. (…) J'ai dit à Jimi "Tu ferais mieux de t'habiller", mais il ne voulait pas. Ensuite il a pris sa guitare acoustique, s'est assis, et a joué. Je n'avais jamais rien entendu de tel. C'était divin. C'était tout ce qu'il voulait faire, s'asseoir et jouer. (…)
Les gens cognaient à la porte ; ils voulaient rentrer mais Jimi n'a pas ouvert. "Tu dois y aller" je lui ai dit, mais il m'a répondu qu'il ne le ferait pas. Je lui ai dit de mettre ses fringues mais il a répondu qu'il ne pouvait pas, alors j'ai ouvert sa valise et sorti ses vêtements. "Tu aimes ça ?" Après tout ça, j'ai dit "Maintenant il est temps que tu y ailles", mais il a refusé. "Tu dois jouer, tu ne peux pas refuser". Alors, il a enfin dit : "OK, je jouerai pour toi et ta famille". Il est alors monté sur scène et a donné son meilleur concert depuis un sacré moment - demandez à qui que ce soit qui était là."
Notes complètes :
http://www.montereyhendrix.gobot.com/about.html
Dès les premières mesures de "Stone Free", Jimi remet effectivement les pendules à l'heure, avec un chant assuré et volontaire. C'est malheureusement la dernière version d'un pilier du répertoire Hendrixien.
Le solo commence à 2:53 sur une improvisation modale en dorien typique du Jimi cuvée 1970. Le style est immédiatement reconnaissable, éclatant de cette liberté inégalée dans un contexte rock.
A 3:28, la wah wah fait son entrée, suivie de plans free à 3:43, avant une fin plus blues, plus classique.
Au final, c'est un excellent solo, étonnamment court, mais parfaitement ciselé.
Le feed back du titre précédent se prolonge par l'introduction de "Foxy Lady". Comme trop souvent, le titre est pris à un rythme trop élevé, empêchant la puissance de se développer pleinement. Jimi joue une partie de son solo avec les dents.
Le professionnel a toutefois manifestement repris le dessus, en livrant ainsi une autre version solide d'un de ses classiques.
Jimi dédie le titre suivant "aux frères et aux sœurs... et à tous les autres qui ne sont ni des frères ni des sœurs (!)".
Avec "Message To Love", Jimi continue sur sa lancée, même s'il débute son solo par un pain monumental. Il joue ensuite un plan très rapide sur une corde rappelant un de ceux de "Pali Gap". Le titre est mené tambour battant, et ne souffre d'aucun temps mort.
Après quelques accords méditatifs et des traits "Little Winguiens", Jimi débute l'introduction de "Hey Baby (New Rising Sun)". Au bout d'environ une minute, il joue une transition flamenco puis installe la suite d'accords des couplets. Il se lance alors dans un solo d'un peu plus d'une minute. Il y a de l'espace et de la sérénité dans son jeu, moins de tension que sur le solo de la version studio.
Son interprétation du couplet et du refrain est dans la même veine "paix intérieure". Son solo suivant se situe dans le prolongement, mais Jimi fait monter la pression lors de la 7ème minute...
... et enchaîne l'introduction de "All Along The Watchtower" sans interruption. Le solo qui suit le premier couplet comporte des traits à couper le souffle.
Le solo central est calqué sur celui de la version studio. C'est une bonne copie que Jimi présente ici, sans toutefois atteindre la perfection originale.
Jimi se trompe dans les paroles du troisième couplet, et commet quelques imprécisions lors du solo final.
Suit l'avant-dernière version de "Machine Gun". Après les quelques mesures d'introduction, Jimi dresse une montagne de saturation, qui instaure le climat si particulier de la composition.
Il faut souligner la qualité de l'interprétation des couplets, irréprochable, dans une veine très proche de la version officielle. La guitare et le chant de Jimi parfois se fondent, parfois s'écartent, mais toujours se complètent.
Le solo central débute par plusieurs tirés qui déchirent l'espace sonore. Billy Cox abandonne la ligne de basse de la version originale pour jour un riff sur plusieurs cordes. Les roulements de Mitch accompagnent cette marche macabre. Personne n'a aussi bien illustré l'absurdité de la guerre et des hommes qui se sacrifient au nom de la liberté.
Le solo final est plus méditatif, sorte de requiem pour les âmes perdues, dont le destin est scellé par la citation de "Taps".
La guitare de Jimi est largement désaccordée lorsqu'il attaque "Spanish Castle Magic" : c'est la conséquence des techniques extrêmes utilisée auparavant. Le chant est moyennement appliqué.
Après un souci technique manifeste en début de solo, Jimi joue tendu avant de se lancer dans un passage purement rythmique.
Il cite le riff du "Sing A Simple Song" de Sly & The Family Stone, déjà repris sur le "We Gotta Live Together" du Band Of Gypsys, puis, mais avec moins de réussite, joue le riff du "Satisfaction" des Rolling Stones.
Suit alors un long solo de batterie, qui se termine alors que les applaudissements montent lorsque Jimi réapparait...
... et entame un "Ezy Ryder" up tempo, qui explique peut-être un jeu assez économique en rythmique. Le solo central est court et efficace. Avec les concerts, le trio commençait à trouver ses marques sur cette composition qui lui a pourtant longtemps posé problème. La solution était peut-être d'abandonner le groove de Buddy Miles pour un rock énergique ?
"Nous allons jouer un autre titre qu'on tente pour notre nouvel album, un truc qui s'appelle "Freedom"."
Jimi attaque alors le riff d'introduction de "Freedom", mais on se rend compte qu'il est désaccordé dès qu'il se lance dans la rythmique des couplets. C'est pire encore lors des refrains, où les cordes de Si et de Mi sont jouées à vide : impossible de rattraper le coup. Jimi profite toutefois du pont instrumental pour se réaccorder. Là encore, il faut noter que le groupe commençait à trouver ses marques...
"Red House" est jouée sans pause. Il y a quelques flottements lors de l'introduction, très blues, jouée sur sa Flying V.
Les couplets sont interprétés dans un style relâché, sans tension. Le solo central est un des plus calmes jamais joué sur "Red House". Jimi en garde sous le pied lors du premier cycle. Mitch multiplie le tempo lors des 12 mesures suivantes, mais Jimi ne joue pas plus intensément pour autant. La tension retombe lors du troisième cycle, où Jimi passe à la wah wah, et prolonge ses idées lors d'un dernier cycle.
Le chant est superbe lors du dernier couplet... mais la version reste déconcertante : sans violence, pas vraiment blues, il lui manque un petit plus.
Suit l'ultime version de "In From The Storm", une des nouvelles compositions de Jimi qui fonctionnent bien en Live. Le tempo est assez lent cette fois-ci. Il y a d'ailleurs une nette accélération lors du pont instrumental. C'est une version moins forte que celle du premier septembre, d'autant que le trio pédale sévèrement dans la semoule lors des dernières mesures.
Jimi remercie l'audience puis attaque "Purple Haze". Il se plante complètement lors du plan en octaves qui sépare les deux premiers couplets. Le solo part sur les bases de la version studio, mais s'en écarte notablement : Jimi joue même avec les dents ! Version moyenne au final.
Le concert continue avec 14 minutes de "Voodoo Child (Slight Return)". Des problèmes de justesse sont audibles dès l'introduction. Ils n'empêchent pourtant pas Jimi de s'en sortir relativement bien lors du premier couplet. Le solo central, avec son alternance de jeu aigu et d'accords en bas de manche, passe plus moyennement. Cela conduit Jimi à s'arrêter, laissant la place à un nouveau solo de batterie de Mitch. Il revient ensuite... mais il n'est pas mieux accordé ! Quelques bons moments sont tout de même à noter.
Il y a un certain cafouillage avant le second couplet, plombé par une guitare très fausse.
Le solo final est à l'image du solo central : très inégal.
Il y a le moment Cream de la soirée : Jimi cite "Sunshine Of Your Love" puis "Cat's Squirrel", avant de citer un de ses propres titres encore inédit à ce jour : "Calling All The Devil's Children" ! Jimi avait-il repensé à cette composition récemment ?
"Merci beaucoup, merci beaucoup. Nous avons Billy Cox à la basse, Mitch Mitchell à la batterie, et euh... votre dévoué à la cabine saxophonique"
Jimi conclut par le riff d'introduction et un a capella avec les dents.
"Merci beaucoup, vous avez été vraiment fantastiques."
A la requête de certains membres du public, Jimi joue "Hey Joe", alors qu'il n'est pas coutumier des rappels. Billy Cox assure les chœurs de cette version solide.
L'Univibes est enclenchée lors des premières notes du solo central. Sur le dernier, Jimi ressuscite le showman en jouant avec les dents.
Jimi nous livre enfin l'ultime version de "Fire", laissé de coté lors de cette dernière tournée. C'est un second rappel énergique, maîtrisé de bout en bout, avec deux superbes soli, ciselés et énergiques.
Au final ? Un concert légèrement inégal (il est assez long), mais avec de grands moments. Non, contrairement à la légende, ce 3 septembre 1970, Jimi Hendrix n'était pas mort.